Denver BBQ Festival Announces New Fall Dates, September 17-19, at Empower Field at Mile High
DENVER, CO. — Eximius Productions, founders of Q in the Lou, announced today new Fall dates for the 2021 Denver Barbecue (BBQ) Festival, September 17-19, at Empower Field at Mile High. The event is a celebration of nationwide BBQ, not a competition. Admission is FREE, but for an elevated experience, VIP lounge tickets are available.

Traditionally held on Father's Day Weekend, the new Fall dates will bring together legendary pitmasters from Denver and around the nation to serve award-winning BBQ. In addition, attendees can enjoy cold beer and drinks, BBQ tutorials and demonstrations as well as games and activities for the whole family.

Admission is FREE on Friday evening (beginning at 5 p.m.), Saturday and Sunday (beginning at 10 a.m.), and attendees will be able to listen to great music and purchase world-class BBQ from some of the most iconic pitmasters and restaurants across the country.

For those looking for an elevated experience and skip any lines, Ticketed VIP passes and all-you-can-eat Pit Passes will be available for purchase starting, Friday, May 28th at 10 a.m. by visiting www.denverbbqfest.com. This year, the VIP Pit Pass is bigger, better and more BBQ-y than ever! This all-inclusive experience gets you in the pits with the Legends, where you can watch them work their meaty magic while they feed you their world-famous Q. Additionally, you can enjoy complimentary cocktails crafted from recipes that the pitmasters themselves created, as well as beer, wine and soft drinks.

"The Denver BBQ Fest is a celebration of award-winning BBQ. We're bringing the best pitmasters from right here in Denver and around the country to our backyard at Empower Field at Mile High for everyone to enjoy," Director of Business Development of Empower Field at Mile High Chuck Olney said.
Statistics from the 2019 Denver BBQ Festival
Details:
PItmasters from 7 States

3,000 Square Feet of Grill space being used/cooked on
10,000 miles traveled to come and cook
1 Semi of Charcoal given away
Food:
8,000 pounds ribs (3600 slabs)
5,000 pounds of brisket
3.000 pounds of chicken
3,000 pounds sausage
600 pounds potato salad
2,000 pounds of beans
About Denver BBQ Festival
The Denver BBQ Festival brings together award-winning barbecue pitmasters to serve award-winning 'que. Come grab a slab and enjoy the meaty magic of amazing BBQ joints from all points, not to mention live music, cold drinks and demonstrations from the nation's most iconic BBQ wizards. For more information, please visit: www.denverbbqfest.com or follow us on Facebook at https://www.facebook.com/DenverBBQFest/ and on Instagram @denverbbqfest.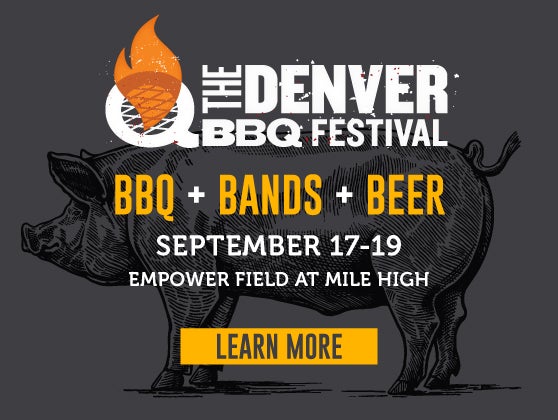 Pig out with some of Americas most award-winning BBQ pitmasters.