Production Bay
The Production Bay is the largest open space available for private events at Empower Field at Mile High.
Event Space/Square Footage: 11,000
General Capacity: 1,250
Theater: 750
Banquet: 550
Classroom: 130
Booths: 65
This space is conveniently located on the Field Level with the player's tunnels serving as the main entrance. For setup, the Production Bay is accessible for an easy load-in. The room's existing simplistic interior offers an event designer a blank slate, in which to create an extravagant theme party or presentation stage. The walls are painted white, the floor is a smoothed concrete and the ceiling displays a technical grid that can simply be disguised with lighting or ceiling treatments.

For dining, this space can accommodate up to 750 with sightline to a main stage or 1,250 for a reception. With direct access to the Field Track, the Production Bay is often used in combination with the Noble Energy Sports Legends Mall or the Field Track for larger events such as an awards dinner, convention celebration, or a picnic.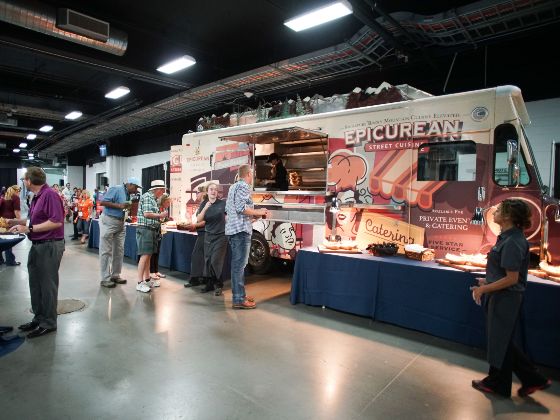 Features
11,000 Square Feet of Space
Built-in Rigging Points for Production Services
Direct Access to Field Track (Based on Availability)
Convenient Access to Parking Lot
Accessible for Drive-in & Load-in
Adjacent to NFL Visitors Locker Room & Home Media Room (Additional Facility Fee)
Cleared: $2,500
Custom Setup: $5,000
Cleared: $3,500
Custom Setup: $7,500
Evening rates are applicable after 5:00pm. Non-Profit events receive 10% off the facility fee for non-holiday events.
Facility Fees are inclusive of the following:
Parking, tables (per inventory), chairs, podium, building security, housekeeping, standard engineering services and all applicable tax. The facility fee is based on a five-hour event, with additional hours for set up and teardown at no additional fee. Audio & Visual is not included. Additional event time is available.
DAYTIME WEEKDAY: Production Bay rates are based on 5 event hours. Additional Hours are $250 per hour
EVENING/WEEKEND/HOLIDAY: Production Bay rates are based on 5 event hours. Additional Hours are $500 per hour
---
Catering Info
Events hosted in the Production Bay have the option to use either premier caterer for food service. Aramark Catering holds the liquor license in the event space, should you choose to offer.