Home Media Room
The Home Media Room is a unique event space typically seen only by the writing and television press on game day.
Event Space/Square Footage: 2,200
General Capacity: 120
Theater: 100
Banquet: 80
Classroom: 48
Booths: N/A
Treat your guests to a full behind the scenes experience while accessing an entrance used by credentialed media personnel, players, and coaching staff. This space is ideal for a variety of events including dueling entertainment, Military retirement ceremonies, receptions, dinners, and daytime meetings. The Home Media Room is conveniently located adjacent to the Coca-Cola Fan Cave, great for accommodating 30-50 guests for a VIP green room, breakout session, or post-meeting reception.

Design your event with theater-style seating to accommodate up to (100) guests facing the main stage or customize your event setup using round tables with seating for up to (80) guests.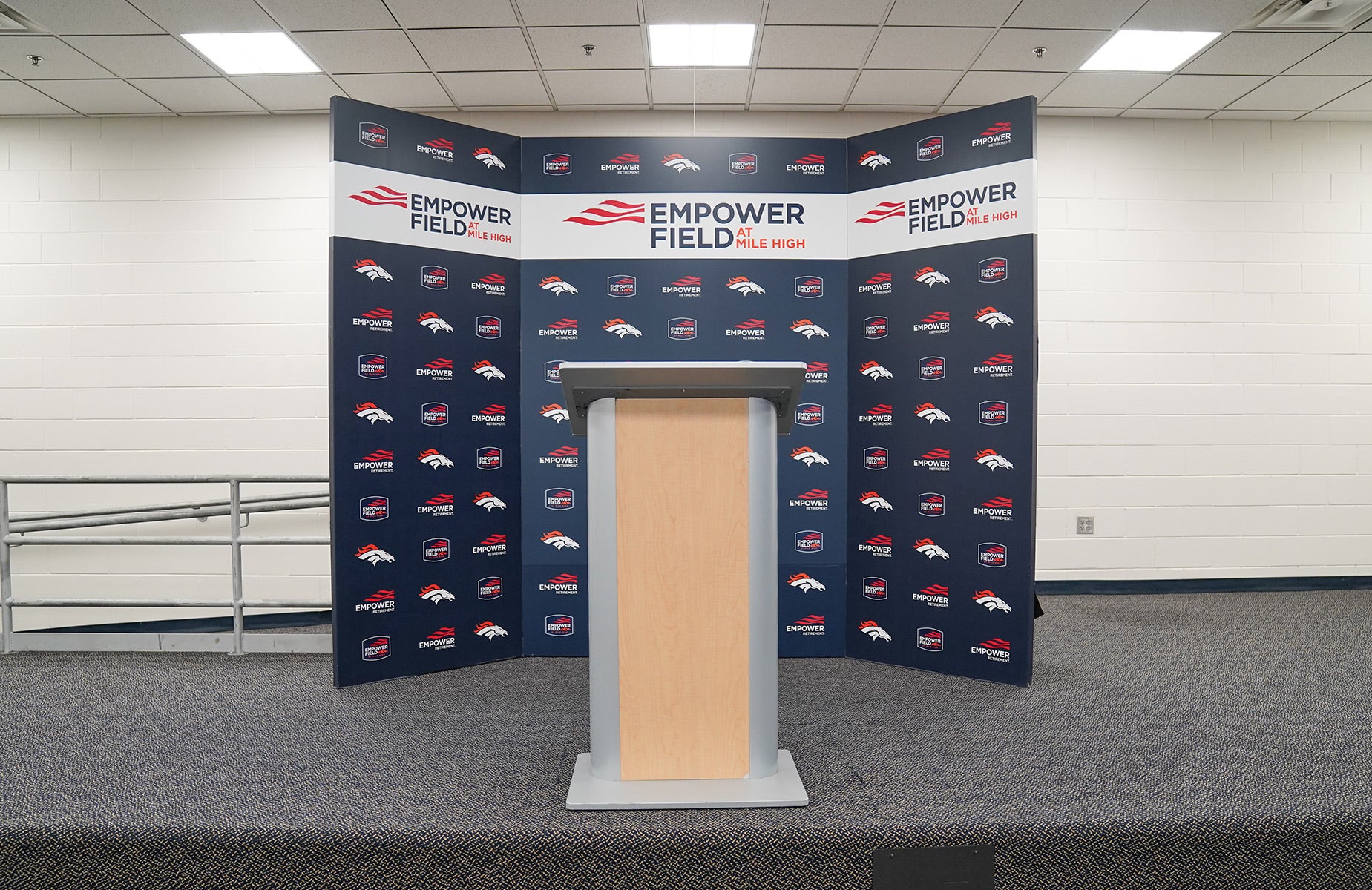 Features
200 Square Feet of Space
Direct Access to View the Field Track (Based on Availability)
Excellent Sound System with Built-in Podium, Microphone & Projector/Screen
Broncos Media Backdrop
Adjacent to the Coca-Cola Fan Cave (Additional Facility Fee Applies)
Theater Setup: $1,100
Custom Setup: $1,850
Theater Setup: $1,500
Custom Setup: $2,250
Evening rates are applicable after 5:00 pm. Non-Profit events receive 10% off the facility fee for non-holiday events.
Facility Fees are inclusive of the following:
Parking, tables (per inventory), chairs, in-room audio/visual, built-in podium, microphone, screen/projector, building security, housekeeping, standard engineering services, and all applicable tax. The facility fee is based on a five-hour event, with additional hours for set up and tear down at no additional fee. Additional event time is available.
DAYTIME WEEKDAY: Home Media Room rates are based on 5 event hours. Additional Hours are $250 per hour
EVENING/WEEKEND/HOLIDAY: Home Media Room rates are based on 5 event hours. Additional Hours are $500 per hour
---
Catering Info
Events hosted in the Home Media Room have the option to use either premier caterer for food service. Aramark Catering holds the liquor license in the event space, should you choose to offer.