Visitors Locker Room
The Visitors Locker Room at Empower Field at Mile High offers guests a behind-the-scenes look at how a professional football team really prepares for a big game.
Event Space/Square Footage: 6,400
General Capacity: 200
Theater: 135
Banquet: 140
Classroom: 60
Booths: N/A
Guests enter the player's tunnel, which is a location only seen by players and coaches on game day. Customize the lockers with the names of your guests or add personalized jerseys to make the dream feel like a reality.

The Visitors Locker Room offers a creative atmosphere for your event whether you are hosting a new product launch, meeting, customer appreciation event or rehearsal dinner. With direct access to the field, it is common for events in the Visitors Locker Room to incorporate field activities. Give the experience of a lifetime by offering a Punt, Pass, and Catch competition; or take it up a notch and ask for our Guest Relations staff to facilitate a custom, Take it to the Field Teambuilding Program.
Visitors Locker Room Information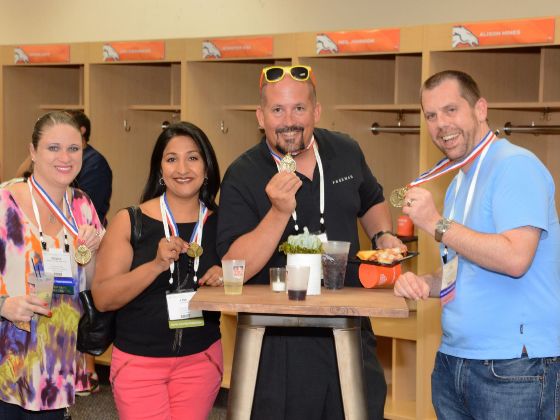 Features
6,400 Square Feet of Space
Direct Access to Field Track (Based on Availability)
Convenient Player Tunnel Parking Access
(75) Lockers to Customize with Nameplates
Access to Visiting Coaches Locker Room & Training Room
TV Monitors for Comcast Music Stations or to Display a Static Logo
Partial Use (one alcove): $3,500
Full Use (both alcoves): $4,500
Partial Use (one alcove): $4,500
Full Use (both alcoves): $5,500
Evening rates are applicable after 5:00 pm. Holiday rates apply for weekend events scheduled in the month of December. Non-Profit events receive 10% off the facility fee for non-holiday events.
Facility Fees are inclusive of the following:
Parking, tables (per inventory), chairs, building security, housekeeping, standard engineering services, and all applicable tax. The facility fee is based on a four-hour event, with additional hours for set up and tear down at no additional fee. Additional event time can be accommodated at a rate of $250.00 per hour.
---
Catering Info
Events hosted in the Visitors Locker Room have the option to use either premier caterer for food service. Aramark Catering holds the liquor license in the event space, should you choose to offer.