Bud Light Champions Club
Located on the north end zone the Bud Light Champions Club offers breathtaking views of the stadium seating bowl.
Event Space/Square Footage: 6,000
General Capacity: 200
Theater: 80-150
Banquet: 140
Classroom: 40-120
Booths: 30
Perfect for daytime meetings, this room is conveniently located adjacent to four breakout suites, accommodating 30-50 guests per suite. This space is commonly used for receptions and/or dinner to accommodate up to 200 reception style or 140 for a plated dinner. While you can set up the room any way you need for your event, the existing setup is a collection of low square cocktails tables with a wood finish that does not require table linens unless you choose to add.

The event space is conveniently divided by a window-lined corridor taking guests from one reception area to an adjoining dining room. Additionally, there are 225 seats outside protected by an overhang, allowing guests to set up outside and enjoy the fresh Rocky Mountain air. Events in this space have the option to incorporate scoreboard messages into the event among other visual dynamics (additional costs associated). Multiple TV's are positioned in the room for added flair.
Bud Light Champions Club Information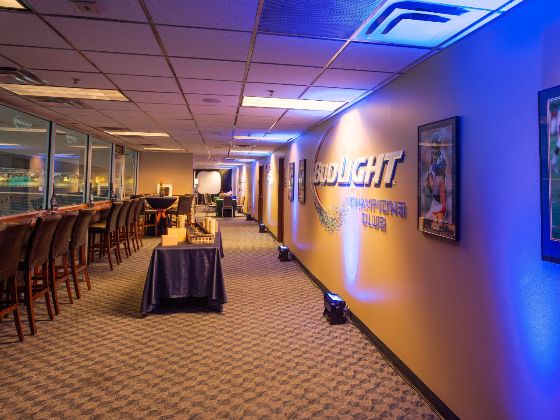 Features
6,000 Square Feet of Space
Built-in Sound System with (2) microphone Kits
Comcast Digital Music Stations through House Speakers
TV Monitors for Static Logo Display
Access to Seating Bowl with Full view of the Field
(2) Built-in Custom Designed Bars
Additional Seating Available Along Window Bar
Dimming Light System
Accessible Loading Dock near Event Space
Partial use (one alcove) $2,500
Full use $3,500
Partial use (one alcove) $3,500
Full use $4,500
Full & partial use $5,500
Evening rates are applicable after 5:00 pm. Non-Profit events receive 10% off the facility fee for non-holiday events.
Facility Fees are inclusive of the following:
Parking, tables (per inventory), chairs, in-room audio/visual, podium, building security, housekeeping, standard engineering services, and all applicable tax. Facility fee is based on a five-hour event, with additional hours for set up and tear down at no additional fee. Additional event time is available.
West Alcove: is setup with existing furniture. A service fee of $750 is applied for a custom setup or clearing of existing furniture in West Alcove
DAYTIME WEEKDAY: Bud Light Champions Club rates are based on 5 event hours. Additional Hours are $250 per hour
EVENING/WEEKEND/HOLIDAY: Bud Light Champions Club rates are based on 5 event hours. Additional Hours are $500 per hour
---
Catering Info
Events hosted in the Bud Light Champions Club have the option to use either premier caterer for food service. Aramark Catering holds the liquor license in the event space, should you choose to offer.