Concacaf launches #WhatsWrongIsWrong anti-discrimination campaign
Concacaf has launched an anti-discrimination campaign which will initially focus on encouraging fans to support eradicating an offensive goalkeeper chant.

The Confederation encourages fans to have a positive and inclusive attitude and to end a chant that is offensive, doesn't have a place in football and could make members of the LGBT+ community feel excluded.

The #WhatsWrongIsWrong campaign will highlight that the derogatory goalkeeper chant would not be accepted in any walk of life. A series of videos will explain that behavior that is wrong in other venues — like a youth sports event or at home — is wrong at the highest level, too.

The #WhatsWrongIsWrong campaign will launch on Tuesday, June 1 before the first even Concacaf Nations League (CNL) Finals in Denver, Colorado on June 3 and June 6. The men's national teams from Costa Rica, Honduras, Mexico and the U.S. will participate in the event.

"This campaign is a very important step in our efforts to eradicate the goalkeeper chant, and to make it absolutely clear that we oppose all forms of discrimination in football," said Concacaf President and FIFA Vice President, Victor Montagliani. "Our aim is to educate and inform fans that even if their intention is not to offend, this chant does offend many people and has no place in the game. The Mexican Football Federation have themselves made it very clear that they want their fans to cease this chant and leave it in the past. We fully support that message and will work alongside them, and other committed stakeholders including FIFA, to further promote football at all levels as a sport that is open and inclusive to all."

"Passionate support of teams and a great atmosphere at matches is what makes football special, and we are all looking forward to welcoming fans back to stadiums this summer," said Concacaf General Secretary, Philippe Moggio. "However, we are determined to eradicate this chant and believe it has no place in our sport. Football should be enjoyable and welcoming to all, but this chant is offensive and risks excluding the LGBT+ community from our game. Put simply, it is wrong and after such a challenging 2020 when we were all kept apart and couldn't enjoy simple things like attending a match, I hope fans can come together this summer and enjoy following their teams in a positive way."

Concacaf and creative agency CCOM Group worked for several months to develop a campaign surrounding the issue that would encourage fans to see the chant in a different light.

"After carrying out research on the best approach for #WhatsWrongIsWrong, it was clear that we needed to provide fans with a very direct campaign that makes it absolutely clear that the chant is not acceptable," said Concacaf Chief Brand and Administration Officer, Alejandro Lesende. "By taking it out of the stadium we believe the campaign has a very simple message: if you would not say it in other settings in everyday life, you should not say it in the stadium. We hope this will resonate with fans across the region and encourage everyone to leave this chant in the past."

In addition to the new initiative, Concacaf will use FIFA's three-step protocol in both the Concacaf Nations League Finals and this summer's Gold Cup. Before each match, a video explaining the protocol will be played to explain that discriminatory chanting could force matches to be paused, suspended or abandoned.

Further #WhatsWrongIsWrong videos and messaging will be published ahead of the 2021 Concacaf Gold Cup, which will occur between July 2 and Aug. 1.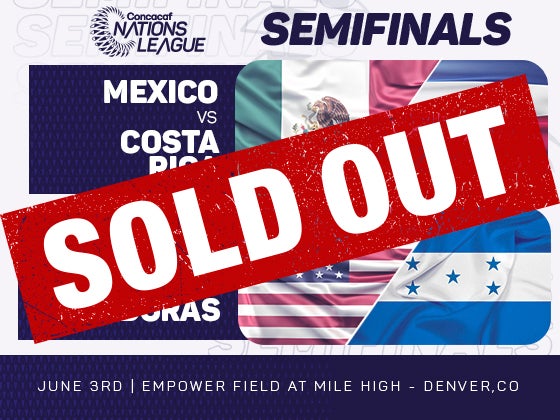 The Semifinals will feature a double-header event day. USA v. Honduras followed by Mexico v. Costa Rica. 1 ticket is good for both Semi-Final matches.